Hyperbaric Plus™for Post Traumatic Stress Disorder Treatment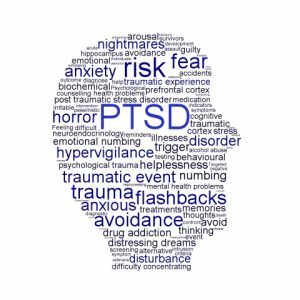 Post traumatic stress disorder, also known as PTSD, is a mental health problem that can develop after a particularly stressful experience, such as a life-threatening event. While the symptoms of PTSD can vary from person to person, we've seen some commonalities in our patients: re-experiencing (reliving the event), avoiding similar situations, feeling negative, and feeling hyperarousal to name a few. These symptoms can be life changing, and not for the better. Moreover, PTSD is not limited to any certain type of person. It can affect anyone of any age, belief, previous mental state, etc.
The good news is there can be good news with such a terrible disorder. When it comes to "getting better" from PTSD, each person will feel better in a different way. For some, he or she may not be fully better until all symptoms are gone, while others may be satisfied with less intense or fewer symptoms each day. At LyfeWell, we specialize in PTSD treatment for our community in Atlanta because we believe in the science and technology of Hyperbaric Plus™.
Using Hyperbaric Plus™ For PTSD Treatment
Hyperbaric Plus™ is a proprietary form of treatment developed by LyfeWell. Hyperbaric Plus™ combines the healing effects of pulsed electromagnetic field therapy (PEMF) and hyperbaric oxygen therapy (HBOT). In general, pulsed electromagnetic field therapy increases the blood flow in the body by quietly stimulating the cellular structure with small electric pulses. Hyperbaric oxygen therapy exposes the body to three times as much oxygen as it normally encounters in the air, which gives the body the actual amount of pure oxygen it desires – rather than cutting it with carbon monoxide and other harmful pollutants.
In regards to PTSD treatment, Hyperbaric Plus™ has been known to reduce brain inflammation and to increase cellular growth. In conjunction, this has helped patients improve memory capabilities, reduce suicidal thoughts, and decrease the necessary dosage of psychoactive medication. Moreover, our patients gladly report that their most frequent symptoms have been reduced or eliminated entirely.
Start Treatment
If you are ready to try and alleviate the symptoms of PTSD in your life and give your brain a break from the recurring stressors, please come visit LyfeWell for a tour of our facility. Our New Member Orientation is 45 minutes and gives new patients or potential patients the opportunity to learn more about LyfeWell treatments.
What To Expect During Hyperbaric Plus™
The total body chambers are fully enclosed in order to provide the proper oxygen levels, so it is custom for first-time users to be a bit intimidated. However, it is very similar to flying in an airplane. There will be a moment of pressure adjustment, so be ready to pop your ears. Overall, the treatment lasts 90 minutes. We recommend you bring pillows or blankets for a quick nap. You can also use your smartphone or another device for entertainment to help the treatment pass quickly.
It is worth noting, however, that this is not a one-and-done type of treatment. We recommend multiple sessions to help the body fully recover. When you visit us during a free, no obligation consultation, we can discuss the ideal frequency of your treatment and the lowest possible cost.
10% Off For Veterans And First Responders
While anyone is susceptible to getting PTSD, there are few people exposed to as many PTSD inducing situations as active military members, veterans, and first responders. Therefore, to help alleviate any symptoms that may seem to be an inevitable part of life, LyfeWell offers a 10 percent discount on all services, all of the time. Thank you for your service.
Take the initiative to get better from your post traumatic stress disorder with the help of science and technology, with the help of Hyperbaric Plus™.